Pineapple glazed with chipotle-honey glaze, then grilled for sweet, caramelized, and spicy pineapple salsa of dreams. Perfect on side with grilled chicken. Gluten free.
Pineapple glazed with chipotle-honey glaze, then grilled for sweet, caramelized, and spicy pineapple salsa of dreams. Perfect on side with grilled chicken. Gluten free.
This Grilled Pineapple Salsa is not just any pineapple salsa! Sweet pineapple gets even better with hint of honey and both balance the heat of chipotle adobo very well. Grilling pineapple caramelize the sugars.. adding another layer of flavor. It is bursting with sweet, tangy and smokey flavor with little bite of heat.. It is vibrant, fresh, and worth-craving-every-bite delicious.
Also sharing tips to have grilled salsa which is still fresh and not like cooked-salsa. (Don't forget to watch 50 seconds video.)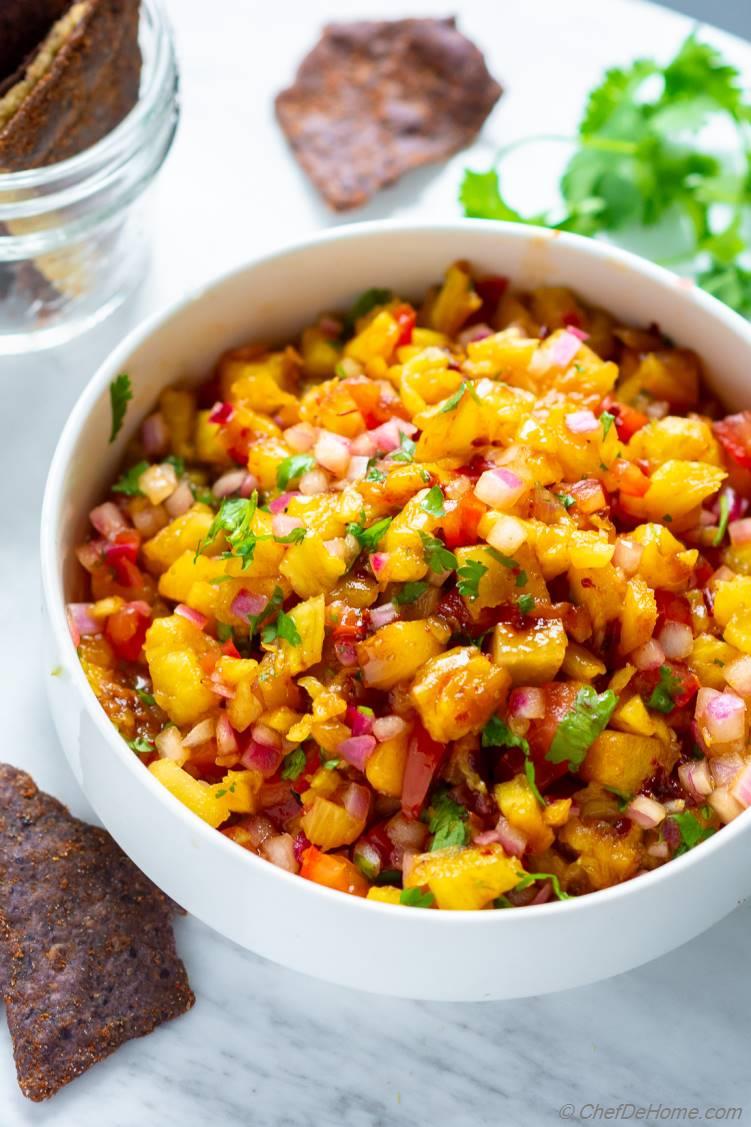 Were you missing some Mexican food on blog? Me too!! (This recipe was specially on Follower's Recipe Request. Not So Sweet kinda Pineapple Salsa.)
I have been working a lot lately with Asian Summer flavors for blog. But yesterday, I remembered my promise of sharing some delicious salsas. So, this is first of my keeping-the-salsa-promise recipe.
Grilled Pineapple:
Pineapple is coated in adobo glaze and then grilled. This simple hack makes grilled pineapple extra flavorful. The smokey flavor of chipotle, plus sweet pineapple, charred on grill. OMG! Even just grilled pineapple tastes so good, you might have nothing left for salsa. 😉 (buy an extra pineapple if trying grilled as well.)
Onion – Grilled or Raw Or Marinated:
This salsa does not use grilled onion. You might ask why. Well, a grilled salsa does not need everything grilled. If raw onion bother you, grill it. But honestly, I prefer marinated onions in Salsa over grilled onion. When grilled onions become soft and loose texture. This does not work well with fruity sweet-ton salsas such as Pineapple, Peach, or Mango Salsa.
So for this recipe, or any grilled fruit salsas, I recommend to let onion marinate with seasoning. This way, onions still have crunchy bite and salsa tastes fresh and crisp.
Try above and salsa will always have fresh and vibrant flavor. (Never eat cooked-mushy-onion-y salsa again.)
To make grilled Pineapple Salsa, I start by mixing a quick glaze for pineapple with minced chipotle, and honey with pinch of salt. To make sure pineapple does not break-apart on grill, I cut it in 1/2 inch thick slices. Generous coat of glaze and it is ready for grill. Pineapple or fruits in general don't need high heat on grill. Best is to grill on cooler area of grill e.g. edges. Once pineapple gets grill mark or is slightly caramelized. I take it off heat and let cool completely.
A quick mix of remaining chopped salsa ingredients – red onion, lime juice, cilantro, seasonings… And Pineapple Salsa is ready to devour. yummo!!
The flavor this easy salsa recipe yields are so amazing and complex.. Your guest will be asking for recipe. I guarantee! It's a kinda salsa you will find in polished Cuban/Mexican restaurants. But with this recipe, now you can make it at home.
I tried it first time in a Cuban restaurant… can't have enough of it since.
Watch How to Make Grilled Pineapple Salsa
Ingrédients
1 fresh pineapple (peeled, cored, and chopped into 1″ pieces)
2 tbsp Chipotle in Adobo (1 chili, 1 tbsp sauce)
1-2 red onion (medium, about 1 cup when small chopped)
2 tomatoes
1 tsp Cumin powder
1/4 Cup Lime
2 tbsp Honey (adjust to taste)
1 tsp Soy Sauce
1 tsp salt (adjust to taste)
4 tbsp Cilantro (Fresh leaves, chopped)
Direction
1 Set the grill to pre-heat.
2 Prepare Salsa ingredients. Peel, core and slice pineapple into thick round or long slices. Small dice red onion and chop cilantro. In a wide bolw, add red onion, 2 tbsp of lime juice with generous pinch of salt. Mix and set aside to marinate.
3 For pineapple glaze, mix minced chipotle chili plus adobo sauce with 1.5 tablespoon honey and generous pinch of salt. Mix the ingredients well. Taste and add mor honey if it is too spicy for you. Coat Pineapple slices in glaze on both sides.
4 Grill Pineapple on low-heat side of grill until nice grill marks appear on both sides of pineapple, or pineapple is sligthly caramelized. Don't cook too long to get grill marks. Don't let pineapple get mushy. Once grilled, leave aside to cool completely.
5 Make Salsa: Chop cooled grilled pineapple. Add to bolw with red onion with cilantro, cumin powder, and diced tomato. Mix well, taste and adjust seasoning – lime juice , as salt (as per taste). Top with reserve glaze (for more sweet-spicy flavour) Refregirate until ready to use.