Some of the links included in this article are from our advertisers. Read our Advertiser Disclosure.
Are you a busy parent or a working professional looking for a quick side hustle?
Online surveys are a popular option since each survey only takes a few minutes and doesn't require special skills. LifePoints lets you earn gift cards or cash by answering questions about your daily habits and hobbies.
There are so many survey sites to choose from. I share my personal experience in this LifePoints review to help you find the best survey site to earn money.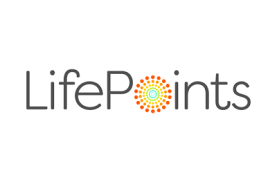 Summary
LifePoints is free to join and available in many countries. You can attempt multiple surveys daily and only need a $5 account balance for Amazon gift cards or PayPal cash rewards.
Pros
✔️ Pays in gift cards and cash via PayPal
✔️ Can answer multiple surveys each day
✔️ Most surveys take 20 minutes or less to complete
✔️ Earn two points on non-qualifying survey attempts
Cons
❌ Won't qualify for every survey attempt
❌ Can only earn points by taking online surveys
❌ Must take a survey every 90 days to keep your account active
❌ Points expire after three years
What is LifePoints?
LifePoints is an online survey site that is free to join. According to LifePoints, there are over five million members in over 40 countries.
Lightspeed Research–LifePoints parent company–has been conducting surveys since 1946. It's safe to say that LifePoints is a legit survey site to earn money in your free time.
You can answer multiple surveys each day and earn rewards points for your effort. They cover a variety of topics about your daily habits and interests.
LifePoints lets you redeem your points for gift cards to your favorite stores, including Amazon. PayPal cash and charity donations are two additional redemption options.
Who Can Join LifePoints?
You can join LifePoints from many countries in the Americas, Europe and Asia. Teens can make money as the minimum age to start is age 14.
LifePoints lets you join from almost any computer or smartphone.
You can answer LifePoints surveys with these web browsers:
Internet Explorer 11
Microsoft Edge
Firefox 5.x or later
Opera 12 or later
Safari 5.x or later
Google Chrome
The process of joining LifePoints is similar to other online survey sites. You can join and attempt your first survey within 10 minutes.
Signup Bonus
Most survey sites offer a one-time signup bonus for new members. LifePoints gives you ten bonus points when you join. To put this bonus value into perspective, you can begin redeeming points for $5 gift cards with 550 points.
It's easy to join as you only have to provide your name, age, email address and mailing address. And you score 20 points before attempting your first real survey.
First, you get 10 points for setting up your LifePoints account. Then you get 10 points for completing a brief interest survey. LifePoints matches your interests with relevant surveys.
LifePoints Mobile App
LifePoints doesn't offer a mobile app at this time. While the lack of an app is unusual for a legit survey site in 2020, the LifePoints website is mobile-friendly.
You can take surveys from your phone using your browser app. You can also start surveys by opening invitations from your email app.
Earning LifePoints
The only way to earn LifePoints is by taking surveys. Most surveys take 10 minutes or 20 minutes to complete. The longest surveys can take up to one hour.
LifePoints doesn't offer in-person focus groups that pay more but require more time. However, you can enter online contests to win prizes worth up to $25.
Some survey sites also let you make money by shopping online or clipping coupons. LifePoints makes it easy to earn points with each survey so you can quickly claim rewards.
Online Surveys
It's possible to take several surveys each day. The ability to take multiple daily surveys is one reason why LifePoints is a great survey site.
Taking several daily surveys lets you request payment more often. Weekly payments are realistic. You can easily request payment after completing six 100-point surveys.
Some survey sites only let you attempt one survey each day or every few days.
Most LifePoints surveys pay up to 125 points and take approximately 20 minutes to complete. Many other surveys pay 75 points and only require 10 minutes of your time.
You may periodically find a lengthy survey taking up to 50 minutes and earn 500 points. For example, I took a 50-minute survey asking my opinion about which grocery stores I shop at and got 525 points.
Your points deposit instantly for each survey you complete. 
LifePoints displays all open surveys on your member dashboard. You will see the number of points you can earn and the estimated time to complete.
My advice is to attempt the highest-paying surveys first if you have the time. For example, only try a 50-minute survey if you currently have 50 minutes to complete it. LifePoints doesn't let you pause a survey and resume it later.
It's possible to complete the surveys in a shorter time, but make sure you provide quality answers. The 50-minute survey took me approximately 30 minutes. Many 20-minute surveys may take up to 15 minutes. Both of these actual times include answering the unavoidable "screener questions" to qualify for the full survey.
Potential LifePoints Survey Topics
No LifePoints survey discloses the topic until you attempt the survey. This "mystery element" can be frustrating but is common with many survey sites.
The surveys may ask for your opinion on these topics:
Brand items you buy
Grocery stores
The cars you drive
Food and drink
Technology devices (i.e., phones, tablets, speakers)
Upcoming major purchases
Future vacation or travel destinations
Political views
Daily habits
Watching commercials
The surveys you answer at LifePoints are similar to other survey sites. One advantage of LifePoints is the ability to attempt several surveys each day. You can expect up to four new options each day.
Qualifying for Surveys
One frustration with any survey site is the need to prequalify for the survey. LifePoints asks you a handful of "screener questions" to determine if you qualify for the survey topic. If so, you finish the survey and earn the full survey payment.
This uncertainty means you won't qualify for every survey you attempt. However, you get two points for each survey you attempt but don't qualify for.
I sometimes try two or three surveys before I qualify for one. This experience is common with most survey sites that let you take multiple surveys daily.
Despite this frustration factor, you can earn more points each day on LifePoints than survey sites that don't offer multiple daily surveys.
Disqualifying is frustrating and inevitable. LifePoints awarding two points per survey attempt is a nice consolation. Some survey apps don't award points for failed attempts.
Also, you usually only have to answer up to five screener questions to see if you qualify. These questions generally ask your age and employment details. Other ones relate to the actual survey topic.
For example, you will share details about what car you drive if the survey is about automobiles. Even then, you may need to own a specific make or model to qualify. To clarify, you won't qualify for surveys about Android phones if you use an iPhone.
LifePoints emails personal invites at least once a month for surveys. It's easier to qualify for these special email invites. And you may have the chance to request a follow-up survey at the end of these attempts to earn more points.
Quick Polls
You can sometimes answer a one-question poll and earn one point. The question appears when logging into your dashboard. These questions are fun about non-survey topics.
One sample poll question might be, "What's your favorite ice cream flavor?" A recent poll asked me what mood benefits I get from using home air fragrances.
Community
LifePoints has a Community page where they publish short posts every two weeks. Many posts let you enter Instagram contests. Like any contest, you have a limited time to offer.
One recent contest is posting a picture of yourself like a celebrity on Look Alike Day. The winner gets $25 worth of LifePoints.
How Much are LifePoints Worth?
You currently need at least 550 points to start redeeming your LifePoints for a $5 reward. This means each point is worth slightly less than one cent each. Online surveys won't make you rich, but it's an easy side hustle.
One advantage of LifePoints is that you can get $5 gift cards. Many survey sites require a balance of at least $10. Some require a minimum $25 balance to start claiming rewards.
Here's a glance at your various payment options.
eGift Cards
Digital gift card rewards start at a $5 balance and can be as high as $100. Each point is worth the same amount for large and small gift cards. Instead of banking up your points to get a discount, you're better off redeeming them often for a $5 or $10 reward.
The most affordable option is the $150 Amazon gift card 
Most non-Amazon gift cards require a $10 points balance–1,080 points.
Some of the $10 gift card brands include:
iTunes and App Store
Applebee's
Bass Pro Shops
CVS Pharmacy
Domino's
Google Play
Starbucks
All electronic gift cards go to your LifePoints account email address within ten business days.
PayPal Cash
LifePoints offers PayPal win 1000$ prepaid card, starting at $5. You will need 600 points to get $5 in PayPal cash. That's 50 more points than an Amazon gift card. But you enjoy the flexibility of being able to use cash.
If you want to take surveys for cash instead of gift cards, LifePoints is a good option. Spending the extra 50 points for cash instead of Amazon credit is reasonable.
Many survey sites practically "force" you to get a gift card because the PayPal cash rewards require more points. For example, you may only need a $5 balance to get an Amazon gift card but $25 for PayPal cash.
All PayPal awards distribute to your account within ten business days. Your PayPal email address needs to be the same as the one you use for LifePoints.
Physical Gift Cards
A few brands will mail you a gift card. However, you need a $25 balance or $50 balance.
Your physical gift card options include:
Bath and Body Works
Darden Restaurants (i.e., Longhorn Steakhouse, Olive Garden and Cheddar's)
Macy's
You should consider getting an e-gift card or PayPal cash first. Your points are worth slightly more for digital rewards. To get a $25 physical gift card, you need 2,850 LifePoints and only 2,700 LifePoints for a digital card.
Plus, it takes between four and six weeks to receive a physical gift card. But you will get all digital rewards within 10 business days.
Charity Donations
It's possible to donate your points to help others. LifePoints requires 550 points to make a $5 donation. For example, one of the charities you can give to is the Special Olympics.
LifePoints distributes all donations at the end of the month.
Do LifePoints Expire?
LifePoints states that all points expire within three years from the date you collect them.
Plus, you will need to attempt a survey at least once every 90 days to keep your account active. This inactivity policy is stricter than most survey sites and micro-task apps. However, it won't be a problem if you enjoy taking surveys regularly.
Customer Service
What happens if you have a problem with LifePoints? Maybe you don't receive points for a survey or have trouble redeeming points.
You can browse their online help center that lists frequently asked questions (FAQs) for many topics. The FAQs should answer most of your questions.
When the FAQs don't help, you can submit an email request or use live chat.
Most issues will resolve within one or two business days. However, LifePoints states it can take up to eight weeks to settle a case for missing points.
Is LifePoints Legitimate?
Trustpilot Score: 4.3
Yes, LifePoints is legit, and the parent company is one of the oldest research companies in the United States. LifePoints has a 4.3 out of 5 Trustpilot score. This score is competitive with other popular survey sites like Survey Junkie and Swagbucks.
You might complete a comparable survey to the competitors and earn a similar number of points. However, LifePoints has the unique advantage of offering Amazon gift cards and PayPal cash for $5.
One of the most common complaints is not receiving points for successful survey attempts. LifePoints will investigate this problem if you submit the survey number when you file a support ticket.
Positives and Negatives
Pros
$5 Amazon gift cards
$5 PayPal cash rewards
Can answer multiple surveys each day
Most surveys take 20 minutes or less to complete
Earn two points on non-qualifying survey attempts
Free to join
Cons
Won't qualify for every survey attempt
Can only earn points by taking online surveys
Must take a survey every 90 days to keep your account active
Points expire after three years
Summary
LifePoints is one of the best survey sites. It's possible to take multiple surveys daily, and you can start redeeming rewards with a $5 balance. But another survey site can be better if you want to earn rewards by also completing non-survey tasks online.
Are you going to join LifePoints? Why or why not? Do you prefer Amazon gift cards or PayPal cash? Let us know what you think by leaving a comment.