Ghee is considered to be one of the most treasured foods in Ayurveda as it has incredible healing properties. Be it our dals, khichdis, or halwas; ghee is one ingredient which is a staple in all these dishes, and it makes them so flavorful that we can't get bored of them ever. Oh, and how can we forget the ghee tadka that goes into most of the Indian dishes?
But most of us these days have already made the blunder of swapping our desi ghee with the various refined oils, which promise us the best of health.
What makes ghee lovable is its aroma, which is very pleasantly intoxicating. Most of us love ghee but we steer away from it thinking it's a type of fat that can pose a lot of health problems. But, let us tell you, if ghee, and by ghee, we mean "pure ghee", is consumed in controlled portions, it can provide innumerable health benefits to its consumer.
Here are a few health benefits of ghee that we've penned down which go beyond its aroma and shine. Let's have a look at them.
1. It Helps Keep Our Body Warm
Have you observed how during winters your mother or grandmother starts preparing sweets that are loaded with ghee? We're talking about moong dal ka halwa, gajar ka halwa, panjeeri, and pinni. They prepare these because consuming foods which have a good quantity of ghee can actually help keep our bodies warm from within during winters and this is why it is recommended by many nutritionists too.
Let's find out what makes ghee your best friend this winter:
1. Helps Keep You Warm From Within: According to Ayurveda, our foods too are of certain nature; warming, cool and neutral. Ghee is said to be a warming food. It is one of the best things to include in your kitchen pantry this nippy season. You can add it in your sabzis, or even apply a spoonful of it on rotis
2. Good Source Of Energy: Ever wondered why you have suddenly started to feel sluggish more often nowadays? One of the reasons could be the change of season. During winters, you are not your active best. According to the book, 'Healing Foods' by DK Publishing House, ghee is a good source of energy. It contains medium and short-chain fatty acids, "of which, lauric acid is a potent antimicrobial and antifungal substance." You can make delicious ladoos or panjiri with ghee and dry fruits and have it right in the morning for the much-needed energy boost.
3. Soothes Cold and Clears Clogged Nose: Cold, cough and mucous-filled nose are possibly the worst aspects of winter. Ayurveda has an interesting nasal drop remedy that may help soothe clogged nose. Ayurvedic experts call it the Nyasa treatment for cold and it involves pouring a few drops of warm pure cow ghee into the nostrils. Make sure, the ghee is pure and warmed to lukewarm temperature. It is also a good idea to consult an Ayurvedic expert before you actually start with the treatment.
4. Great For Skin: Ghee is loaded with vital fatty acids that can help nourish dull and dry skin. It also helps in hydrating skin cells.
Here's How To Make Ideal Ghee Face Mask For Supple And Glowing Skin:
1. Mix 2 tablespoons of ghee, 2 tablespoon of besan or haldi and water in a bowl. Stir the mixture thoroughly.
2. Make sure that the consistency is firm but not dry. If you find the mixture too watery, then add besan or haldi to it.
3. Mix the paste well and apply it on your face. Let it sit for 20 minutes; rinse it off with cold water. Repeat thrice a week for best results.
5. Keeps Constipation At Bay: From greasy fries, fried patties and all things indulgent, our winter cravings know no bounds. These foods may not have the best of effect on our digestion. According the book, 'The Complete Book of Home Remedies' by Dr. Vasant Lad, milk and ghee make for a mild and effective remedy for constipation. "Taking 1 or 2 teaspoonfuls of ghee in a cup of hot milk at bedtime is an effective but gentle means of relieving constipation,".
2. It Solves The Problem Of The Clogged Nose
There's no sensation that's as annoying as a clogged nose. With a clogged nose, you face difficulties while breathing, your taste buds take a hit, you start feeling exhausted at the chance of slightest exertion and experience serious headaches too.
However, there is a very unique remedy that Ayurveda prescribes to treat a clogged nose. It's a nasal drop remedy called Nyasa treatment. This treatment involves putting a few drops of warm cow ghee (pure) inside the nostrils; this is to be done first thing in the morning. This treatment provides quick relief as the ghee travels through the nostrils all the way down to the throat and soothes the infection. Just make sure that the ghee you're using is pure and it is lukewarm.
Hardly anyone is unaware of the health benefits of ghee or what has now come to be known in western countries as clarified butter. From weakness and skin diseases, to pimple and joint pains, there's nothing this Indian superfood cannot fix. No wonder then that ghee has been an essential part of countless Ayurvedic medicines and is still used in numerous home remedies as well. There's no dearth of research papers singing praises of ghee and its healing properties for the human body, especially during winters.
Ghee is a magic food during the winters and any typical Indian household consumes it on a daily basis. From putting it in sweets to slathering a generous amount of it on chapatis and bread toasts, Indian cooking makes good use of ghee. But very few people use it to treat cold, sinusitis and stuffiness of nose.Indians grow up with a wealth of home remedies for a number of ailments, using everyday foods that include fruits and vegetables. Naturally, for treating cold, cough and nasal blockages also, there are a number of quick home remedies. Some of them involve ghee, like sautéing a few garlic cloves in it and eating it warm. But did you know that rubbing the magical concoction on your body may also work and offer almost instant relief?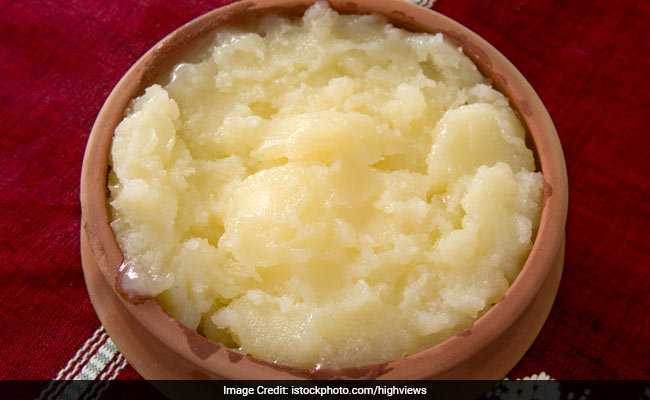 Many believe that ghee may be directly used to treat cold by either using it as nasal drops or rubbing some of it on your chest and your extremities, that is, your hands and legs. Protecting your hands and legs is the most important during winters, as cold generally creeps into the body, through those parts. Hence, rubbing a small amount of warm ghee on your hands and legs, before going to bed, can help you keep warm during the night. Needless to say, it's great for the skin of the limbs as well, as these are the body parts where the skin tends to get especially rough and dry during the cold weather.
The even more rare home remedy involving ghee for cold is the nasal drop therapy. Its a remedy suggested by Ayurveda and must strictly be followed only after consulting an Ayurveda expert and must be done under their supervision. Ayurvedic experts call it the Nyasa treatment for cold and it involves pouring a few drops of warm pure cow ghee into the nostrils, first thing in the morning. It is supposed to provide quick relief and soothe the infection. However, one needs to make sure that the ghee is pure and made from unadulterated cow milk. Moreover, make sure the ghee is warmed to a lukewarm temperature and is not scalding hot.
The method can be repeated twice a day, if the congestion is really bad. Therefore, lukewarm ghee can be used for nasal intake once before bed and once after waking up in the morning. A certified practitioner and an Ayurveda expert must be consulted before trying a home remedy like this.
3. It Is A Good Source Of Fat
If you're on a weight loss spree, you would have definitely received so many pro tips that you wouldn't have been able to even remember them correctly. One of the most common tips among many is the one which asks you to eliminate fats from your diet. This is wrong, because fats, carbs, and proteins are the essential macronutrients that help us sustain our body the healthy way. Therefore, to remove any food from your diet is wrong; you need to make better choices — this is the key to weight loss.
Learn to avoid unhealthy fats which are hidden in the junk and processed foods. Instead, pick healthy fat alternatives like ghee, avocados, etc. Ghee is a healthy source of fat. Its saturated fats are easily digestible and also helps boost our metabolism.
Ghee is extensively used in food during winters. But did you know that just a few drops of it could help soothe a cold too?
If you are trying to lose weight, then you must know how important it is to not only engage in exercises, but also eat a healthy diet. A healthy diet should consist of foods that provide essential nutrients and have fat-burning properties to help you shed kilos. However, some foods, despite their health benefits have a bad reputation of making you gain weight, of which ghee or clarified butter tops the list. Ghee is an integral part of the traditional Indian cuisine. Unfortunately, it has been shunned by many health enthusiasts, as using it could be fattening and unhealthy. But turns out, ghee is the superhero we all need to keep fit. You heard us! Of course, with the right quantity, ghee is said to help you lose weight efficiently.
Ghee for weight loss: Ghee made from cow's milk is an excellent source of fat-soluble vitamins and healthy fatty acids that aid in weight loss. As per Macrobiotic Nutritionist and Health Coach Shilpa Arora, once made, ghee practically does not contain lactose and casein, making it suitable for people who cannot digest dairy. It makes an amazing ingredient to help you lose weight and burn belly fat effectively.
Benefits of Ghee: Here's how ghee helps you lose weight:
Ghee is believed to contain essential amino acids, which help in mobilising fat and making the fat cells to shrink in size.
It is also a good source of memory-boosting omega-3 fatty acid DHA along with omega-6 fatty acids. These both fatty acids help increase lean body mass and reduce fat mass, which in turn, aids in weight loss and weight management.
Ghee helps in improving your digestive system and further prevents inflammation, both of which play a key role in losing weight.
Ghee is strengthening and removes toxins from our system. It contains butyric acid along with vitamins A, D, E and K that boosts immunity, promotes gut health and strengthens your bones and teeth.
The butyric acid and medium chain triglycerides in ghee are said to help in mobilising stubborn belly fat.
Caution: Anything in excess is bad. Be careful of the amount of ghee you are ingesting every day. If you wish to use ghee for weight loss, consult a doctor who will able to guide you to ensure weight loss, the healthy way. Despite its many health benefits, it should be eaten in moderation as it is high in saturated fats.
4. It Is Good For Intestinal Health
Among the other fats, ghee is known to be the richest source of butyric acid making it the perfect option for an ideal indulgence as it helps our intestine do their work better. This is because the colon cells use butyric acid as their source of energy.
5. Apply Ghee Over Your Rotis To Decrease Their Glycemic Index
In India, we've seen that it is the norm in most of the households to apply ghee on bread such as rotis and paranthas. While we've always been under the notion that our mothers do this to feed us some love (or some more fat), apparently it has a deeper truth to it. Applying ghee over your wheat bread actually helps to decrease their glycemic index making them easily digestible. Doing so helps one combat health issues like obesity and diabetes also.
6. It's Great For Skin
Since times immemorial, ghee has been a part of many beauty care regimes. The fatty acids of ghee do the work of a nourishing agent and pump some new life into dull skin. The shuddh (pure) desi ghee is said to leave you with softer, supple skin. It hydrates our skin cells from within which makes them glow. Want to know how you can get soft supple skin from ghee? By using it in a face-pack like this:
Mix two tablespoons of besan (chickpea flour) and ghee along with a quarter teaspoon of turmeric. Mix them well to form a lump-free paste. Apply this mixture on your neck and face. Leave it on for 20 minutes and then rinse. This will leave with you glowing, supple skin.