If you happen to like gazpacho but want a greener alternative, look no further.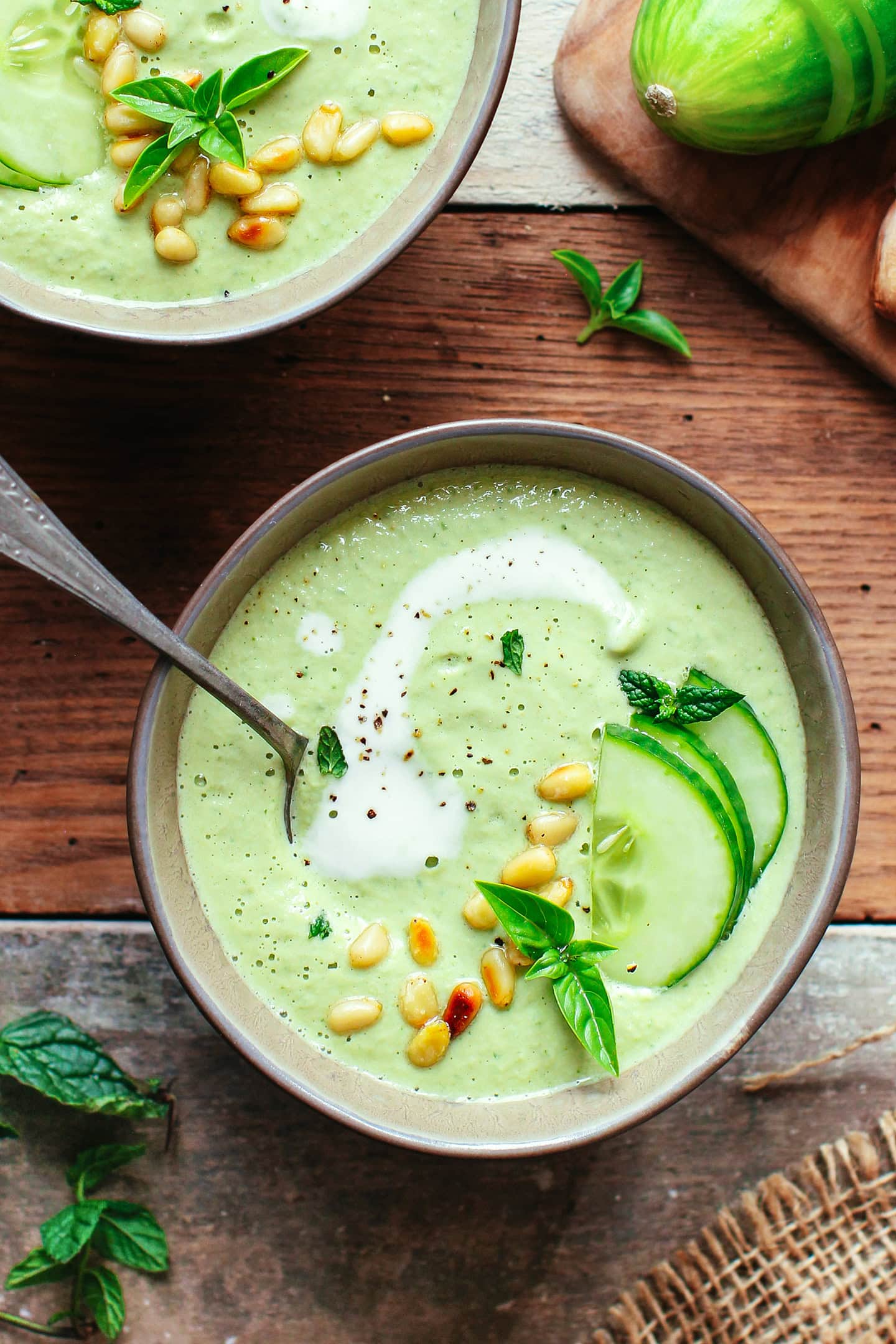 This super creamy cucumber gazpacho requires just one blender and 10 minutes! It's healthy, light, and SO FRESH!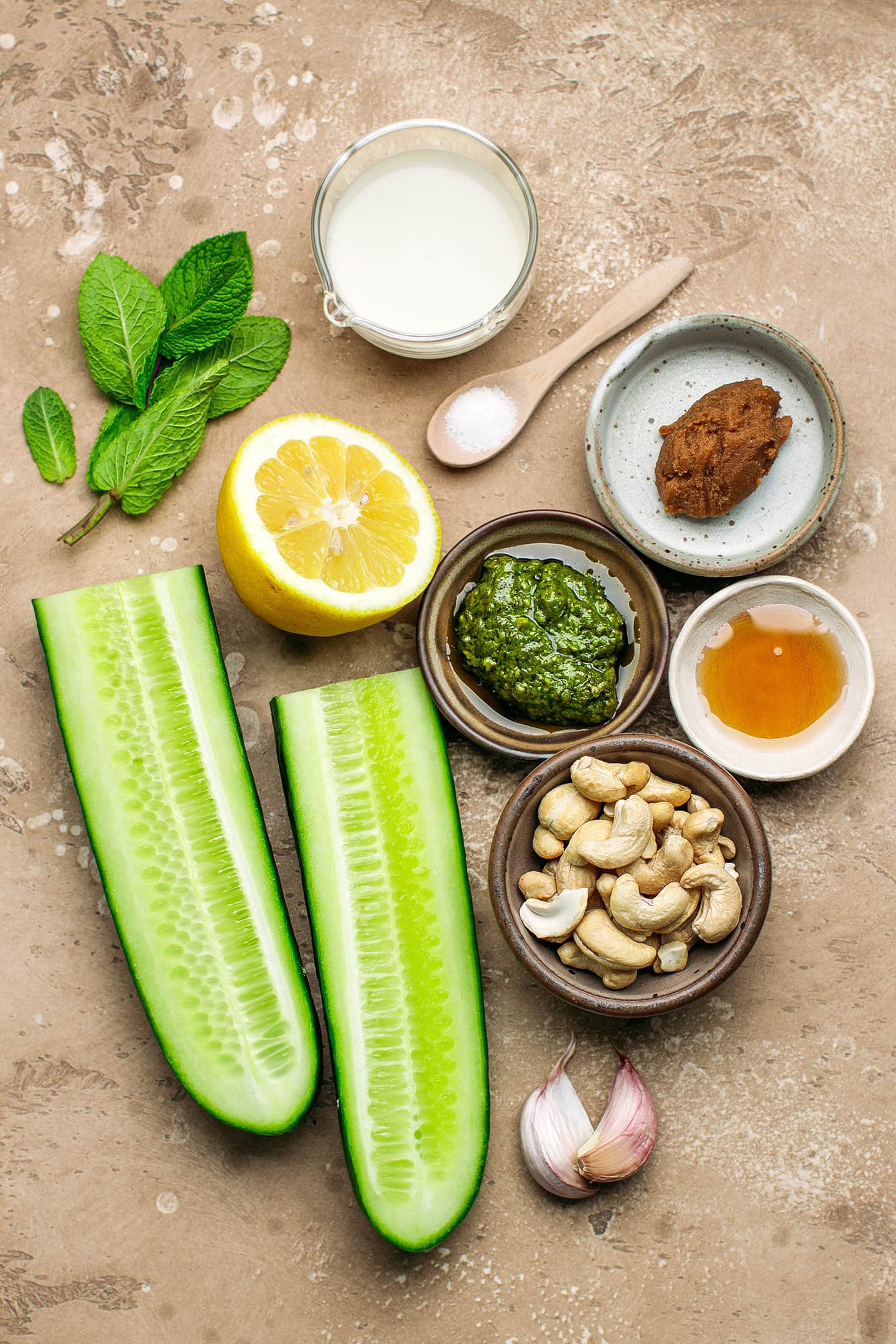 Because it's so hot these days I'm craving mostly fresh meals. With that I mind I wanted a refreshing appetizer that would take little time and few ingredients to prepare. Here comes this bright and cold summer soup! It requires only 10 basic ingredients and comes together in 10 minutes, let's say 5 if you are fast enough.
Since cucumbers are very watery I use a base of soaked cashews that brings thickness and creaminess without making the soup too heavy.
Then, for more flavor, I added a couple tablespoons of basil pesto, white miso for the umami, plus lemon juice and a few mint leaves for freshness. I also recommend adding a tablespoon of maple syrup to balance with the (very subtle) bitterness of cucumbers.
Making the gazpacho is incredibly easy, you combine all the ingredients in a blender and blend on high speed until smooth and creamy. Then chill in the refrigerator for at least two hours. Trust me it's even better when served very fresh!
Top with toasted pine nuts, fresh mint or basil, and a few cucumber slices before serving!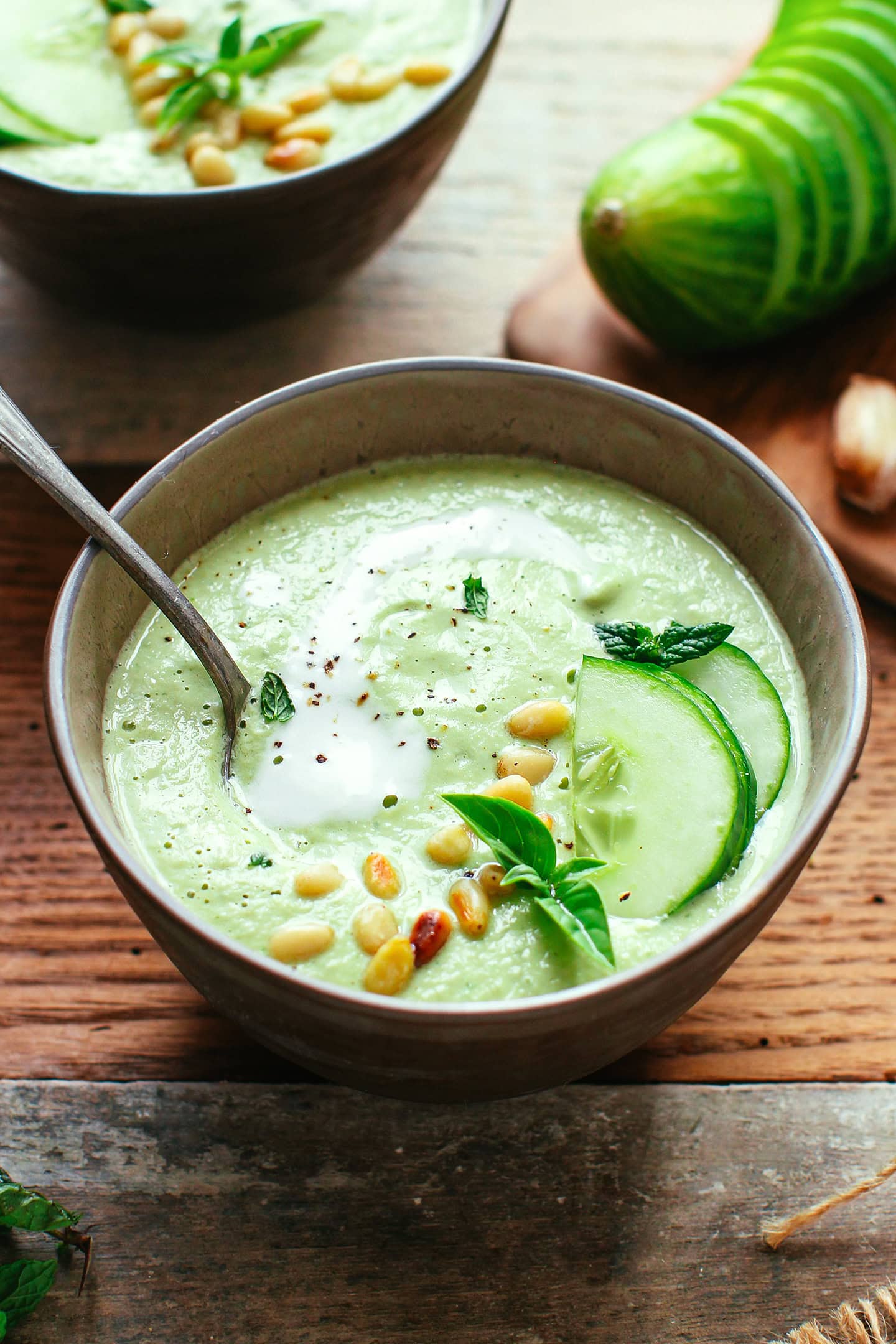 Serve this soup chilled for a light and refreshing appetizer or entrée! This cucumber gazpacho is not only easy to make, it's also creamy, loaded with vitamins, and super refreshing!
Let me know in the comments if you try this recipe!
PREP TIME : 10 mins
SERVINGS 6 (as an appetizer)
CALORIES182 kcal
INGREDIENTS US CustomaryMetric 1x2x3x
▢1 cup raw cashews, soaked overnight
▢2 cucumbers
▢¼ cup full-fat coconut milk
▢2 tablespoon basil pesto
▢2 tablespoon lemon juice
▢1 tablespoon white miso
▢1 tablespoon maple syrup
▢2 cloves of garlic
▢¼ teaspoon salt
▢⅛ teaspoon ground black pepper
▢4-5 mint leaves
▢for topping: cucumber slices, toasted pine nuts, basil leaves
Cook Mode
Prevent your screen from going dark
INSTRUCTIONS
Wash the cucumbers. Cut them in half lengthwise and scrape out the seeds using a teaspoon. Chop the cucumbers and place them in a high-speed blender.
Drain the cashews and add them to the blender with all the other ingredients: coconut milk, pesto, lemon juice, miso, maple syrup, garlic, salt, ground pepper, and mint leaves.
Blend on high speed for 1-2 minutes or until very smooth. Taste and adjust seasonings if needed. For a nice kick, add a pinch of red pepper flakes.
Transfer to a large bowl or saucepan, cover and chill in the refrigerator for at least 2 hours before serving.
Serve fresh topped with cucumber slices, toasted pine nuts, and fresh basil. The soup will keep in the refrigerator for up to 3 days.
ENJOY!!!!